With more than 25 years of expertise in scaffolding design, B&T Scaffolding stands as a premier scaffolding company in London. The key to the success of every project lies in the meticulous scaffold design and planning phase and this is an area where our business truly excels
Our Scaffold design process
Whether you have a small or large commercial project, you can rely on B&T Scaffolding to take care of all scaffolding design requirements. Our highly trained scaffolding design engineers will collaborate with you every step of the way, from conceptualisation to erection, ensuring that we cater to your specific requirements.
With a track record of successfully serving numerous clients in London who seek top-notch scaffolding company services, we have accumulated a wealth of expertise and industry knowledge as a leading scaffolding company. Regardless of the project's size or your scaffolding needs, B&T Scaffolding is the trusted partner you can depend on.
What is the scaffolding design process?
The scaffold design process involves creating and planning custom scaffolding tailored to the specific needs and specifications of a project. The scaffolding structures must meet safety, stability, industry compliance and load-bearing requirements. Scaffolding designers adhere to the following four objectives to meet the criteria of any project:
Safety
Our Scaffold design engineers prioritise safety by ensuring that the scaffold structure is stable and secure. They consider factors such as weight loads, structural integrity and fall protection to reduce the risk of accidents and injuries.
Efficiency
A well-designed scaffold layout can improve work efficiency. It provides convenient access to work areas, reducing downtime and unnecessary movement for workers.
Compliance
All of our scaffold design team are well-versed in industry regulations and standards. We ensure that the scaffold design complies with local building codes and safety regulations, preventing potential legal issues and delays.
Risk Mitigation
By identifying potential safety hazards and addressing them in the scaffold design phase, B&T Scaffolding help mitigate risks associated with scaffolding, reducing the likelihood of accidents and injuries.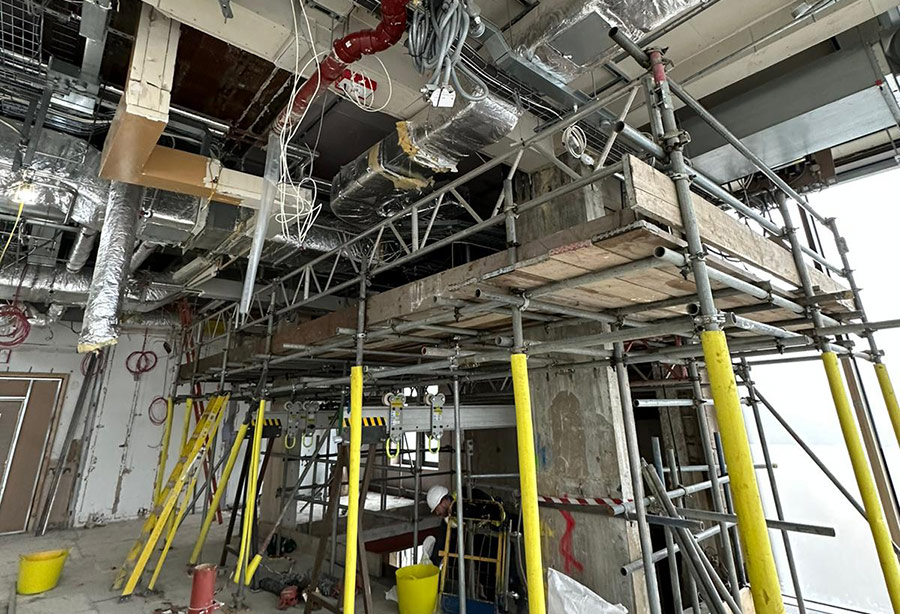 Why B&T Scaffolding
Our experienced team can cater to a wide range of requirements, encompassing everything from basic working platforms and scaffold towers to large scale industrial building scaffolding. We also provide essential extras such as sheeting, temporary roofing, ramps, runways, hoists, fencing and rubbish chutes.
We collaborate closely with you to ensure that your specifications are meticulously addressed and every aspect of your project is carefully planned. Waste no time and opt for B&T Scaffolding as your go-to scaffolding supplier in London. Our dedicated team will stand by you, offering steadfast support throughout the scaffolding design process.
If you require further information on our scaffold design services, please feel free to contact our team for further information.